Mahi-mahi

Coryphaena hippurus


Linnaeus, 1758

Information

Range
Global Oceans
Scientific Classification
Kingdom
Animalia
Phylum
Chordata
Class
Actinopterygii
Order
Perciformes
Family
Coryphaenidae
Genus
Coryphaena
Species
• C. hippurus
Conservation Status
(IUCN 3.1)

Least Concern
A Mahi-mahi (C. hippurus) is a large silvery fish. The word mahi-mahi means very strong in Hawaiian. It also means fish in Persian. It is a surface dwelling species, and it's found far offshore globally.
Also known widely as dorado, it is one of only two members of the Coryphaenidae family, the other being the pompano dolphinfish.
General Characteristics
Edit
Mahi-mahi mostly stick around with their mates as they swim around. Surprisingly, Mahi-mahi are carnivorous fishes, that feed on Crabs, squid, and other fish that are smaller than it (like flying fish).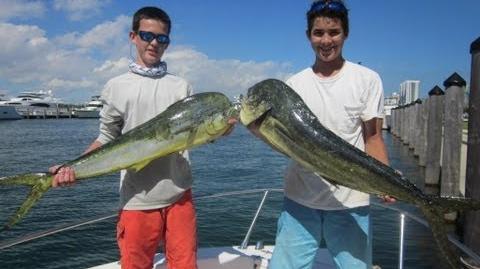 Ad blocker interference detected!
Wikia is a free-to-use site that makes money from advertising. We have a modified experience for viewers using ad blockers

Wikia is not accessible if you've made further modifications. Remove the custom ad blocker rule(s) and the page will load as expected.