The Mariana Trench is the deepest trench in the world. It features many spectacular creatures, and reaches a total depth of 10.911 km. At several miles deep, it is very difficult to explore, and it is thought many new creatures we haven't discovered live there.
Exploration
Edit
There have officially been 4 descents into the Mariana Trench, with the use of deep sea submarines. The first ever descent into the trench was in 1960. The bathyscaphe
Trieste
went on Januruary 23, reaching the bottom at 1:06 pm with Don Walsh and Jacques Piccard on board. Following were the unmanned missions with the
Kaikō
(ROV) in 1996, and the
Nereus
in 2009. On March 26, 2012 the 4th descent to the bottom was made with the
Deepsea Challenger,
James Cameron on board. Many other teams are planning on descending to discover the wonders of this trench.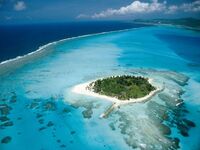 Ad blocker interference detected!
Wikia is a free-to-use site that makes money from advertising. We have a modified experience for viewers using ad blockers

Wikia is not accessible if you've made further modifications. Remove the custom ad blocker rule(s) and the page will load as expected.